Fisher valve
Contact us
TEL: 001-929-333-5513
FAX: 001-929-333-5513
Add:245 E MAIN ST STE 115,ALHAMBRA CA 91801,USA
> Read more
Fisher valve
Fisher ACTUATORS Pneumatic Actuators Rack-and-Pinion Actuato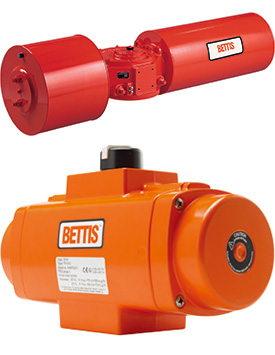 Rack-and-Pinion Actuator M serial
BETTIS M series actuator through the NEPSI certification .
BETTIS have 50 years of experience in the industrial field, it is the world's leading brand of pneumatic actuator, products are applied to almost every energy related industry.
G Serial
Single action and double action

GENERAL SERVICE INFORMATION 1.1.1 This service procedure is offered as a guide to enable general maintenance to be performed on Bettis™ G/GC01XXX, G/GC2XXX, G/GC3XXX, G/GC4XXX, G/GC5XXX, G/GC7XXX, G/GC8XXX, G/GC10XXX, G13XXX, and GH/GHC2XXX, GH/GHC3XXX, GH/GHC4XXX, GH/GHC5XXX, GH/GHC7XXX, GH/GHC8XXX Spring Return (SR) Series Single Power Module Pneumatic Actuators. These procedures can also be used on Bettis™ GXX2XX Double Acting Series Twin Power Modules Pneumatic Actuators. 1.1.2 Normal recommended service interval for this actuator series is five years.

GENERAL SAFETY INFORMATION Products supplied by Bettis™, in its "as shipped" condition, are intrinsically safe if the instructions contained within this Service Instruction are strictly adhered to and executed by well-trained, equipped, prepared and competent personnel.

Operating Ranges Torque Outputs (guaranteed) Double-acting: 12,581-6,000,000 lb-in (1420 – 678,000 Nm) Spring-return end torques : In excess of 3,000,000 lb-in (339,000 Nm) Operating Pressures Pneumatic: 40-200 PSIG (3-14 BAR) Hydraulic: To 5000 PSIG (345 BAR) Operating Temperatures Standard: -20° F to +200° F (-29° C to +93° C) Optional Trims: High Temperature (-10 trim): 0° F to +350° F (-18° C to +177° C) Low Temperature (-11 trim): -40° F to +150° F (-40∞ C to + 66° C) High Cycle Standard Temperature (-33 trim): -20° F to +200° F (-29° C to +93° C) Non – PED Low Temperature : Pneumatic: -50° F to +180° F (-46° C to +82° C) Hydraulic: -50° F to +200° F (-46° C to +93v C) Benefits Created with its users' interest in mind, the G-Series actuators offer many significant benefits.
More Models and low price, please contact services@myjackwell.com