Yokogawa
Contact us
TEL: 001-929-333-5513
FAX: 001-929-333-5513
Add:245 E MAIN ST STE 115,ALHAMBRA CA 91801,USA
> Read more
Yokogawa
Yokogawa digital YEWFLO vortex flowmeter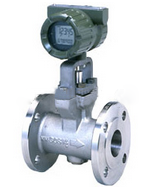 YOKOGAWA ®
Yokogawa digital YEWFLO vortex flowmeter
Summary:
Yokogawa digitalYEWFLO vortex flowmeter
The new digitalYEWFLO vortex flowmeter is the latest offering in our line of world class vortex flowmeters. Based on the field-proven sensor technology of the YEWFLO series of vortex flowmeters, digitalYEWFLO offers a unique signal processing technique that extends the features of DSP.
The advanced processing algorithms are known as Spectral Signal Processing (SSP). SSP analyzes the vortex waveform into its spectral components to filter noise from signal for the most stable measurement possible.
Downloads for digitalYEWFLO(DY)
Features: digitalYEWFLO Vortex Flowmeter
-
New functions with Spectral Signal Processing (SSP) technology
SSP analyses the fluid conditions inside the digitalYEWFLO vortex flowmeter and uses the data to automatically select the optimum adjustment for the application, providing features never seen before in a vortex flowmeter.
SSP accurately senses vortices in the low flow range, providing outstanding flow stability.
-
Advanced self-diagnostics
Application conditions such as high pipeline vibration and abnormal flow are predicted and indicated.
-
High accuracy
±0.75% of reading (liquid)
±1.0% of reading (gas, steam)
-
Wide process temperature range
High temperature version up to 450 deg C
Cryogenic version minimum -196 deg C
-
Simple parameter settings
Frequently-used selections grouped together in a quick-access format decrease commissioning time
-
Clear, concise indicator
Convenient display of the simultaneous and total flow rates together with the process diagnosis
-
Dual output for analog/pulse
Simultaneous output for flow rate and pulse
-
Alarm output
An alarm signal is output when an alarm occurs.
-
BRAIN/HART communication and key switches for human-machine interface
-
NACE compliant
-
NAMUR 43 compliant
-
Remote cable length up to 30m
Specifications: digitalYEWFLO Vortex Flowmeters
Standard
Multi-Variable
Reduced Bore
Model & code
DY Vortex Flowmeter
Optional code:/MV
Option code:/R1,/R2
Fluid to be measured
Liquid, gas, steam (avoid multiphase flow and sticky fluids)
Nominal size
15mm ∼ 300mm
(400mm:special)
25mm ∼ 200mm
25mm ∼ 200mm
Accuracy
Liquid: ±1.0% of reading (20000≤Re≤1000)
Liquid: ±0.75% of reading (D×1000≤Re)
Liquid: ±1.0% of reading
(20000≤Re≤1000)
Gas, steam: ±1.0% of reading (flow velocity less than 35m/s)
Gas, steam: ±1.5% of reading (flow velocity 35m/s ∼ 80m/s)
Output signal
Simultaneous output(both analog and transistor contact output available)
Process
temperature
range
-29 deg C - 260 deg C
(standard)
-29 deg C - 260 deg C
(standard)
-29 deg C - 260 deg C
(standard)
-196 deg C∼100 deg C
(option: cryogenic version)
N/A
N/A
-29 deg C∼450 deg C
(option: high process
temperature version)
N/A
-29 deg C∼450 deg C
(option: high process
temperature version)
Process
pressure
limit
-0.1MPa (-1kg/cm2) to flange rating
Ambient temperature
-29 to 85 deg C (Integral type / No indicator)
-29 to 80 deg C (Integral type / with indicator)
-29 to 85 deg C (Remote type detector)
-40 to 85 deg C (Remote type converter / No indicator)
-30 to 80 deg C (Remote type converter / with indicator)
Ambient
humidity
5~100%RH( Non-condensing)
Mounting
Integral type and Remote type detector: Flange mounting or wafer mounting Remote type converter: 2 inch pipe mounting
JIS10/20/40, ANSI150/300/600/900, JPI150/300/600,DIN PN10/16/25/40
Electrical connection
JIS G1/2 female, ANSI 1/2NPT female, ISO M20×1.5 female
Electrical classification
JIS flameproof, FM explosion proof/intrinsically safe
ATEX (CENELEC flameproof/intrinsically safe/IEC type n)
CSA explosion proof/intrinsically safe : Dual Seal
SAA flame proof/intrinsically safe
Material
Body: SCS14A cast stainless steel (equivalent to SUS316,CF8M)
Shedder bar: duplex stainless steel (option:anti-corrosion version)
Gasket: SUS316 stainless steel with polytetrafluoroethylene (Teflon) coating
Converter housing and case cover: aluminum alloy or ASTM CF8M (equiv. JIS SCS14A) (Option: /E1)
Applicable Standard
*EMC Conformity Standards:
EN61326-1 Class A, Table 2 (For use in industrial locations), EN61326-2-3
EN55011 Class A Group 1
*Pressure Equipment Directive:
Notified Body Identification Number 0038 Module H