Micro Motion
Contact us
TEL: 001-929-333-5513
FAX: 001-929-333-5513
Add:245 E MAIN ST STE 115,ALHAMBRA CA 91801,USA
> Read more
Micro Motion
Micro Motion LF-Series Extreme Low-Flow Coriolis and Density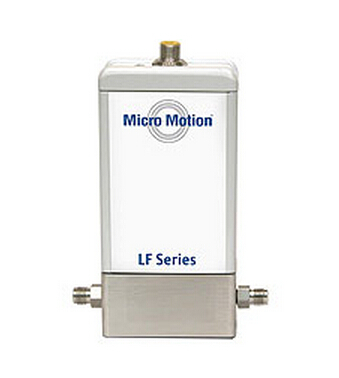 Micro Motion ®
LF-Series Extreme Low-Flow Coriolis and Density Meters
Summary:
Highestprecision from a miniaturized flow meter
Patented opticalsensing system delivers unparalleled sensitivity and stability

Palm-sized formfactor is ideal for tight spaces
Scalable platformthat solves challenges in the most demanding low-flow applications
Three sizes areavailable, with the smallest capable of measuring flow rates down to 1 g/h

High-speed DSPfor accuracy under the toughest conditions
Superiorreliability
No moving partsto wear or replace minimizes maintenance for long term reliability

Ruggedconstruction for durability in the lab or in the field
Micro Motion LF-Series meters are the smallest Coriolismeters available and offer a scalable platform to meet individual flowmeasurement needs. With a footprint the size of a handheld organizer thismeters fits into any tight space for ultra-low, high precision flowmeasurement.
Features &Benefits
Advantages ofCoriolis Measurement
Direct inlinemeasurement of mass flow, density, concentration, and volume flow andtemperature from a single device

Immune to fluid,process, or environmental effects for superb measurement confidence

Highly robust,suitable for installation anywhere with no flow conditioning or straight piperun required

No movinginternal parts results in no maintenance or repair

Specifications
BRIEF SPECIFICATIONS*

Mass flow accuracy:

Standard +/-1.0% of rate
Optional +/-0.50% of rate

Density accuracy:

+/- 0.005 g/cm3

Wetted parts:

316/316L stainless steel
302 and 316 stainless steel (optional filter components)

Temperature rating:

32° to 149°F (0° to 65°C)

Pressure rating:

Standard 500 psi (35 bar)
Optional 1500 psi (100 bar)
LF-SERIES MODEL

MAXIMUM FLOW RATE (LIQUID)

TYPICAL FLOW RATE (GAS)

English Units

Metric Units

English Units

Metric Units

LF2M

0.84 lb/hr

0.38 kg/hr

0.227 lb/hr

0.103 kg/hr

LF3M

2.21 lb/hr

1.0 kg/hr

0.893 lb/hr

0.405 kg/hr

LF4M

69.54 lb/hr

27.0 kg/hr

8.026 lb/hr

3.64 kg/hr

* See product data sheet for transmitter specifications and more detailed sensor specifications.
Applications
Micro Motion LF-Series Coriolis metersare the highest precision miniaturized Coriolis meter to deliver superioraccuracy measurement for extreme low flow applications.
Chemicalcatalyst research

Chemicalinjection

Dosing systems

High pressuregases

Liquid and gaslow flow measurement

Precisioncoatings

Metering pumpcontrol

Metrology

R&Dlaboratory

Vacuum thin filmcoating