Rosemount
Contact us
TEL: 001-929-333-5513
FAX: 001-929-333-5513
Add:245 E MAIN ST STE 115,ALHAMBRA CA 91801,USA
> Read more
Rosemount
Rosemount 8721 Hygienic Sensor and Sanitary Flowmeter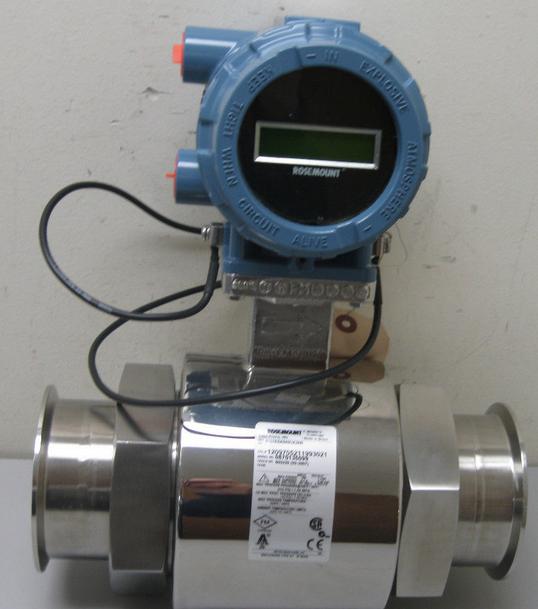 Rosemount ®
8721 Hygienic Sensor and Sanitary Flowmeter
Summary:
The Rosemount 8721 Hygienic Magnetic Sensor is specificallydesigned for food, beverage and pharmaceutical applications that require areliable, safe, and hygienic design.
All-weldedsensor designed for food, beverage and pharmaceutical applications

Contact surfacesconstructed of FDA-approved materials that comply with 3-A and EHEDG standards

Lightweightcompact design makes installation easy

Sizes range from0.5 to 4 inch (15 to 100 mm)

Features & Benefits
Product contactsurfaces constructed of FDA approved materials designed in accordance with 3Aand EHEDG standards.

Sensor is CIP ⁄SIP cleanable, and the sensor I.D. matches the process piping to eliminatehard-to-clean step changes.

Available with avariety of sanitary process connections with easily accessed process gaskets tofacilitate inspection and maintenance.

Compact, allstainless steel meter body is fully-welded, and critical junctures are pottedto provide a hermetic seal, protecting the internal components and wiring frompressurized steam, water and sanitation chemicals

Specifications
Accuracy

Up to 0.25% of volumetric flow rate accuracy over 13:1 flow turndowns, 0.5% over 40:1 flow turndown

Line Sizes

½-4 inch (15-100 mm)

Liner Materials

PFA

Electrode Materials

316L Stainless Steel, Nickel Alloy, Platinum

Process Connections

Tri-Clamp® Sanitary Coupling

IDF Sanitary Coupling (screw type)

Weld Nipple

DIN 11851 (Imperial and Metric)

DIN 11864 (-1 and -2 Form A)

SMS 1145

DEN US 50 Weld Nipple

Product Certifications

3-A, EHEDG Type EL, PMO (M-b-350)

Interchangeability

Compatible with all E-Series transmitters.
Compatible with Legacy transmitters.

· 8712D

· 8712C

· 8732C

· 8742C
Applications
The 8721 hygienic sensor is specifically designed for the demandingapplications in food, beverage, and life sciences. The robust, all-welded, fulldiameter sensor is constructed of FDA approved materials that are fit forpurpose, and is authorized to display the 3-A Symbol (Authorization #1222), iscertified by EHEDG (#C03-5229) and is approved for use in FDA Grade A milkmeter based timing loops (M-b 350). Sizes range from ½" (15mm) to 4" (100mm)and are available in a variety of industry standard process connections.