Switchgear
Contact us
TEL: 001-646-569-9958
FAX: 001-646-569-9958
Add:245 E MAIN ST STE 115,ALHAMBRA CA 91801,USA
> Read more
Switchgear
KYN61-40.5 Armoured Metal-enclosed Switchgear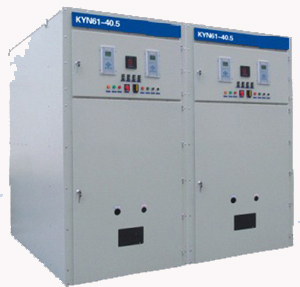 description
KYN61-40.5 metal armor mounted switchgear cabinet according to GB3906-2006 the armored metal-enclosed switchgear design. It applies to three-phase AC rated voltage 40.5kV, rated frequency 50Hz power system for receiving and distributing power and circuit implementation of control, protection and detection, in addition to widely used in general power system may also be used for frequent operation place.
Two, KYN61-40.5 standard
GB3906-2006 "3 ~ 35kV AC metal-enclosed switchgear"
GB11022-89 "high-voltage switchgear General technical conditions"
IEC60298 "rated voltage 1kV and less than 50kV AC metal-enclosed switchgear and control equipment" DL404-97 "Indoor AC High Voltage Switchgear order technical conditions"
Third, the use of environmental conditions
KYN61-40.5 normal environmental conditions
Maximum ambient air temperature: + 40 ℃, lower limit: -10 ℃, the average temperature does not exceed 35 ℃;
2. The altitude does not exceed 1000m;
3. The daily average relative humidity less than 95%, the monthly average of less than 90%;
4. Earthquake intensity not more than 8;
5. The water vapor pressure on average less than 2.2Kpa, on average less than 1.8kpa;
6. No fire, explosion, serious pollution, chemical corrosion and severe vibration.
(2) special working conditions
When used in excess of a predetermined normal ambient conditions negotiated by the user and the manufacturer.
Four, KYN61-40.5 technical indicators
Rated voltage (KV) 40.5
Power frequency withstand voltage (KV) 95 (1min)
Impulse withstand voltage (KV) 185
Rated frequency 50Hz
Rated Current (A) 1250/1600/2000
Rated thermal current (KA 4S) 25 / 31.5 / 40
Rated dynamic current (KA) 63/80
Rated short circuit breaking current (KA) 25 / 31.5 / 40
Rated short-circuit current (KA) 63/80 ·
Sub-closing and auxiliary circuits Rated voltage (V) DC 24,36,48,60,110,220 exchange 110,220
Protection class IP3X
Fifth, the structure Introduction
KYN61-40.5 switchgear cabinet structure using assembled, circuit breaker handcart floor structure; promote handcart frame is loaded screw nut; equipped with a new type of composite insulated vacuum circuit breaker, and a good interchangeability mechanism, can be easily moved handcart and to prevent misuse and damage to the advancing mechanism; the main switch, handcart, door interlock switches between adopt mandatory mechanical locking methods to meet the "five anti" function; can all operations in the door closed state; ample cable room space can connect multiple cables; speed grounding switch for grounding circuit and short circuit; enclosure class IP3X, handcart compartment door open state, the degree of protection IP2X.