Micro Motion
Contact us
TEL: 001-646-569-9958
FAX: 001-646-569-9958
Add:245 E MAIN ST STE 115,ALHAMBRA CA 91801,USA
> Read more
Micro Motion
Micro Motion CNG050 Coriolis Meters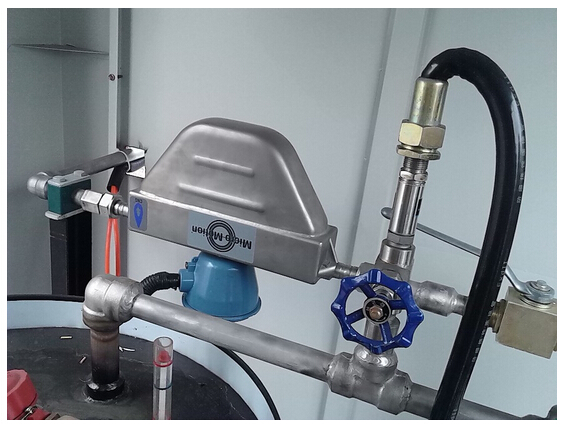 Micro Motion ®
CNG050 Coriolis Meters
Summary:
Micro Motion CNG050 Compressed Natural Gas meters wasspecifically designed for the CNG fuel dispensing industry to meet thechallenges of measuring compressed natural gas for custody transfer. With over50,000 installations worldwide, the CNG050 is the preferred meters of theleading CNG dispensing equipment manufacturers.
The CNG050Coriolis Meters are compatible with the following transmitter:
Features & Benefits

Features
One size fitsall – 40 to 4444 SCFM (68 to 7550 Nm3/hr)

316 stainlesssteel material of construction

Pressure ratingto 5000 psi (345 bar)

Temperaturerange -40 to 257°F (-40 to 125°C)

Mass flowaccuracy ± 0.5% (CNG)

MicroMotion MVD™  DirectConnect™ Technology for digital integration directly betweensensor and dispenser head electronics
Benefits
A single-meter solution specifically designed for use in bothlight and heavy duty vehicle dispensers

Reduced fill time with higher flow rate capacity

Variety of transmitter options provide multi-variable outputsto accommodate any dispenser design requirements

Compact design with no moving parts, no special mounting andno flow conditioning required

Fast delivery and global support

Specifications
BRIEF SPECIFICATIONS*

Flow accuracy

±0.5% of Batch
from 2 to 220 lb/min (54 to 6000 kg/h)

Max mass flow rate

220 lb/min (6000 kg/h)

Max standard volume flow rate

4444 SCFM

Wetted parts

316 stainless steel

Temperature rating

-40 to 257° F (-40 to 125° C)

Pressure rating

5000 psi (345 bar)

Typical line size

1/2 to 1 inch (13 to 25 mm)

* Listed specifications may vary with sensor or transmitter model.
Applications
The Micro Motion CNG050 Coriolis meter is the preferred meter among the leading CNG dispensing manufacturers with over 50,000 installations worldwide. Micro Motion CNG050 Coriolis meters provide optimal flow/density measurements in these typical applications:
CNG dispensers